Research overview
The uncertainty of climate change will be one of the challenges in feeding the growing world population in the future. A production system is needed that is more robust and resilient to climate change. Agroforestry (AFS) is proposed as a potential way to meet three pillars (food security, adaptation and mitigation) of Climate Smart Agriculture (CSA) in semi-arid regions. The student team of 6 students tried to close the knowledge gap on the potential benefits of AFS's on a large scale. This was done by answering the following research question:
"What are (dis)advantages of agroforestry systems under semi-arid conditions?"
This research question has been answered based on the following sub-questions:
1.      What benefits does AFS offer on the three pillars (adaptation, mitigation, and food production) of CSA?
2.      What environmental benefits does AFS offer?
3.      What socioeconomic benefits does AFS offer?
4.      How can agroforestry be evaluated on its performance, if being implemented in the business case of a sustainable agricultural development in Hungary. This evaluation will be based on a multi-criteria analysis (MCA)?
5.      How should agroforestry be redefined in order to be implemented as a climate smart agriculture practice in a semi-arid area?


In this research, three Agroforestry scenarios (High productive (HP), Marginalisation and Business as usual (BaU)) in the Hungary case are proposed and weighed. In the early phase of the work, literature reviews have been done to sharpen the knowledge related to recent AFS practice, especially in semi-arid region. Several interviews with experts have also been conducted in order to give supplementary input towards the feasibility of AFS implementation in the high productive scenario. The last step, multi-criteria analysis (MCA) is used to investigate the crucial criteria for each scenario based on three perspectives (Entrepreneur, Ecologist and Policy makers).
HP scenario is a scenario in which a lot of investment will be done to improve the production system of the region (such as Metropolitan Food Clusters systems). In the Marginalisation scenario, it is assumed that people will leave the land and there will be little or no agriculture practices, and AFS might be the only way to enhance the landscape use. While in BaU, intensive agriculture is the main production system used, while AFS will be a new knowledge to be implemented.
The result of literature review and MCA shows that AFS give more benefit on planet as it is meeting the three pillars (people and profit) of CSA. Even though uncertainty of climate change is still becoming a challenge in the future, compared to non-AFS, AFS seems to have more adaptive capacity through providing suitable micro-and macro-climate for the regions. It also could mitigate more CO2 emission in sequestering more, even though the knowledge for other greenhouse gases (GHG) still needs to be researched. AFS also can increase the productivity of the yield due to synergy and efficient use of resource compared to monocropping. Furthermore, environmentally, AFS could reduce the negative impact of agriculture on biodiversity, although the knowledge about native species needs to be further researched. In addition, in socioeconomics view, there is no single solution that fits for all region, so that formulating an accurate based site policy is needed to further implementation of AFS. Moreover, based on the analysis, AFS is more advantageous than conventional agriculture in all scenarios even though its weight is different based on each perspective.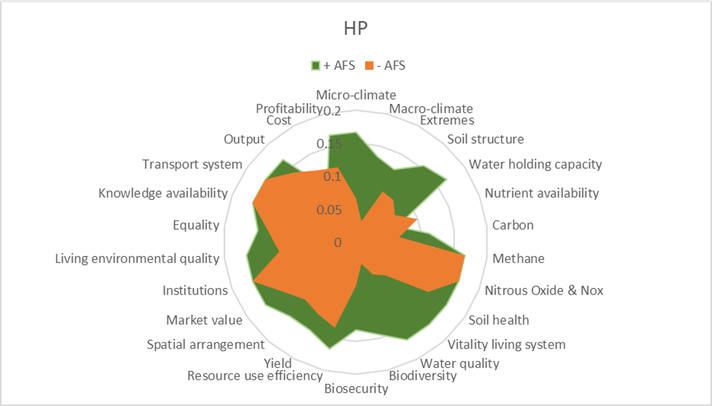 View from the WMFC team
Metropolitan Food Clusters (MFC) comprise modern and innovative agricultural and agro-industrial developments in and around the world's metropoles and its linked rural areas. Its goal is to improve resource use efficiency in land, water, energy, minerals etc. for sustainable food production in all its aspects.  WMFC requested this research to find out on the specifics of Agroforestry as CSA practice in high-productive and large-scale agricultural practices.  
The use of CSA practices is commonly known as the key to reduce greenhouse gas emissions, to improve soils including carbon storage capacity, to adapt in water management and to adjust land use practices. AFS, by definition, consists of land use management systems in which trees or shrubs are grown around or among crops or pastureland as intercropping practice. However, the research related to AFS in (semi) arid conditions is very limited. Therefore, the main research question in this project has been what are the (dis)advantages of AFS under (semi) arid conditions, as CSA practice.
Together with the student team, the research and strategy development have been executed from an interdisciplinary perspective. in which aspects of planet, people and profit and process (governance) were taken into account. In (semi) arid conditions encountered in cases in Hungary, the opportunities of agroforestry practice in combination with high productive agriculture were researched and evaluated on its performance through the MCA practice. This with regard to adaptation to and mitigation of climate change, as well as with regard to the business case, resource use efficiency, recycling, biodiversity and landscape. Overall, the research shows that an AFS-included agri-food system also in high productive agri-practices has better performance.
During the research, the WMFC and the student team found that scale and spatial pattern of trees/shrubs and crops have significant impacts on the sustainable performance of AFS and resource use efficiency. Further research will be conducted.
Want to know more? Please feel free to contact us for more information!